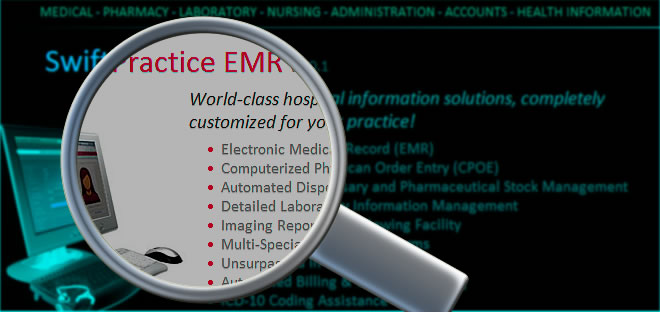 Beyond your regular expectations from an electronic medical record system, there are many reasons you might want to choose SwiftPractice over the other options. Here's a few of them:
Truly paperless potential. Experience the full freedom of paperless input and e-library. At the same time, upload and link any paper document to the same client, providing flexibility to accommodate, for instance, occasional staff who may not be able to immediately use the EMR
More like Facebook than Quickbooks!, SwiftPractice uses familiar web 2.0 interface, making using the system easier and more friendly. Tasks are generally intuitive, requiring no learning of new shortcuts, other than those normally used for browsing.
Strong on Managed Care transactions, including NHIS and other private retainerships. Enables automated enrollee validation, retainer-based transaction auditing, claims computing and other correspondences
Completely customized solution, with limitless opportunity for adapting to YOUR HOSPITAL's unique needs and circumstances. Software that is either picked from the shelf or outsourced from elsewhere can only go so far; often this leaves you only one option: squeeze a square peg into a round hole.
Ability to integrate with your existing or anticipated website for purposes such as synchronizing appointment requests coming from the internet
Countless utility tools, including a chat facility, internal memos, clinical calculators and converters, appointments, calendars, sundry graphs and charts and table reports for monitoring and evaluation, et cetera, et cetera
Specifically Nigerian software thoroughly designed for Nigerian practices, from within Nigeria • Specifically hospital-based software thoroughly designed with extensive experience within the hospital system…
ICD-10 is the 10th revision of the International Statistical Classification of Diseases and Related Health Problems (ICD), a medical classification list by the World Health Organization (WHO). SwiftPractice provides assistance for easily adding appropriate diagnostic codes to clinical encounters.